AGM Battery Separator Piece
Brand: JHTD
Product origin: China
Delivery time: 10 working days
Supply capacity: Sufficient capacity, can meet the needs of any well-known large customer
1. We have our own factory which produces AGM battery separator piece
2. Our AGM battery separator piece's quality and quantity are under controlled
3. Our AGM battery separator pieces are produced with two advanced production lines
AGM Battery Separator Piece

AGM Battery Separator Piece
Introduction
AGM Battery Separator is made of superior quality micro glass fiber. It has been widely used in battery in the field of telecommunication, railway, electrical power, fire control and alarming system, solar energy, wind energy, automobile, electrical car and shipping. We have two advanced production lines with more than an annual output of 4000 Tons.

Feature
Our AGM battery separator adopt AGM technology, it can effectively prevent electrolyte stratification, so as to increase the deep cycle life (up to 3 times that of ordinary batteries) and service life of batteries.
On the other hand, AGM separator has better low temperature performance because of its lower resistance.
Overview
Quick Details
| | |
| --- | --- |
| Place of Origin: China | Packaging: Cartons or plastic bags |
| Brand Name: JHTD | Application: Automotive, ups |
| Model Number: AGM battery separator plate | Battery Size: AGM battery |
| Type: Insulation Sheet | Weight: 0.01kgs |
| Material: AGM | Sealed Type: Sealed |
| Size: General / Customized | Design life: 3-5 Years |
AGM Battery Separator Piece Executive Standard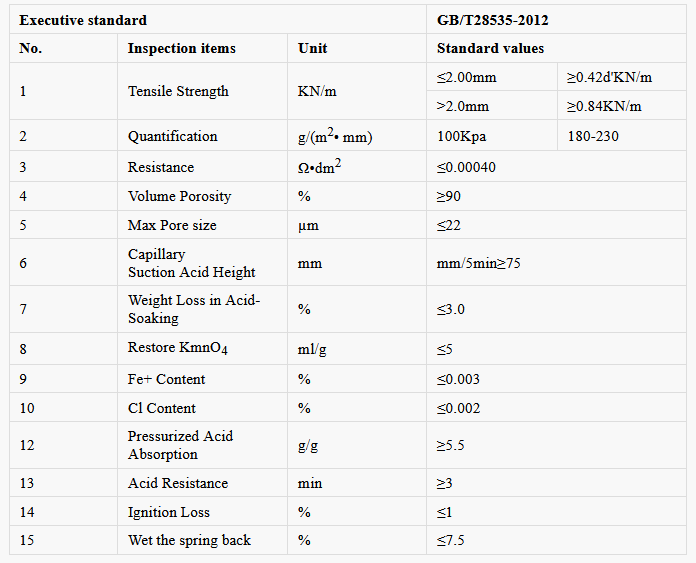 TIPS:
This standard is reference standard.

We can produce the products according to customers' requirements.
AGM Battery Separator Piece Type Nomenclature:

Thickness, width and length and type are according to the customer's request.
The AGM separator is one kind of environmental-protection material which is made of micro glass fiber (Diameter of 0.6-6μm). It is white, innocuity, tastelessness and specially used in Value Regulated Lead-Acid batteries (VRLA batteries). The AGM separator has good acid resistance, equal thickness, high volume porosity, enough tensile strengthen both in machine direction and cross direction, good compression ability to ensure the high plate group pressure, and good insulative ability etc. It can absorb enough electrolyte, supply the channels for hydrogen and oxygen free passing to react, prevent the active materials from falling off, slow the creation of lead crystal, and reduce the loss of electrolyte in charge & loss maintenance, it is also has a long using life. The AGM separator is supplied in rolls or pieces, and packed with carton after covered with the plastic film.

Application: UPS power supply, Electrical power system, Railway signal, Telecommunication equipment, Emergency lighting, Fire control and Alarming system, Generator starting
FAQ
Q1: What pressure is the thickness measured at?
It depends on customer's requirement. Usually it is @20KPA or @100KPA.
Q2: Are the separator the same for different applications?
Separator for start-stop battery and UPS battery are not the same.